Healthcare is a basic necessity. So, for the longest time, patient experience was not treated as a priority. Doctors often focused on the medical ailment solely, instead of on the patient as a whole. Considering the tremendous stresses of the industry, this was just seen as the norm.
However, with changing times, a competitive market, and patients valuing their position, customer experience is becoming critical.
Customer experience, or patient experience, in the healthcare industry has been a long time coming. Today, most patients have the option to look elsewhere. As a consequence, the age-old attitude of 'it's our job to make patients better, not happy' is changing.
So, when it comes to the top customer experience trends, there are definitely some highlights to watch out for in 2020.
Here are the top must-haves in your CX program. If you haven't already implemented this, it's time to get buckle up.
Most Impactful CX Trends in the Healthcare Industry
Customer experience refers to an overview of all the experiences a customer has with an organization. But when it comes to healthcare, it is all the more important. Patients approach you at their most vulnerable, and as a healthcare professional, you need to take that into account.
Start with Feedback
If your aim is to improve patient experience, why not go straight to the source? Ask patients for their feedback at critical points of the patient experience journey. Was the wait-time too long? Were they satisfied with the experience? What could be improved to give them a better experience the next time?
Surveys play a critical role in improving CX since they allow patients to give you feedback immediately. Of course, all of this is no use if you don't follow-up with patients and work to truly implement the feedback received.
Always ensure that patients, like all customers, have an easy outlet to give feedback. If there's any criticism, this gives you an opportunity to rectify the experience. Moreover, you can also work to improve the point to ensure that the same criticism isn't a cause for concern again.
Go Digital
It's the age of technology. Almost everything that was deemed fiction just a few decades ago is becoming a reality (and a necessity). Today, patients have more choice about the doctors they go to. They expect to be treated a certain way, and they expect the ease of technology.
So if you haven't yet adapted to going digital, now is the time.
Queues can be made digital, reducing wait-time. You can also help patients remotely monitor basic things with the help of wearables. This could be things like heart rate, sleep pattern, exercise.
With this information in place, remote consultations are also easier to provide. Tele-consultations make you more accessible and are also one of the services that have high patient demand.
Patient Personalization
The healthcare industry isn't just about making patients better anymore, but also about making them feel good.
Things that often got little attention earlier, like wait times, small talk, even timely meal deliveries in hospitals, are now changing. Doctors are encouraged to engage in a personal conversation with patients – get to know them, and not just their illness.
Some of the most basic things you can do are refer to patients by name, reference a past conversation, and most importantly – take an interest.
Getting to know patients beyond the illness might actually also give you a more holistic view of their personality and help you tailor medicines based on what would suit them best.
Leveraging Artificial Intelligence (AI)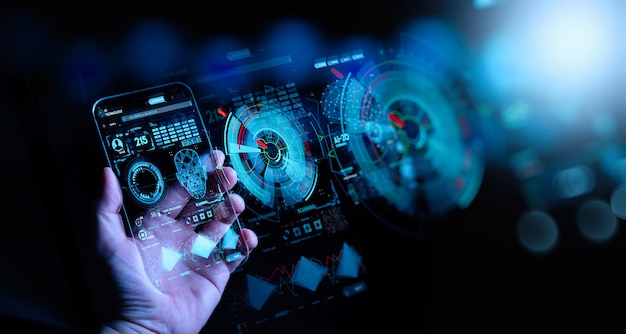 Healthcare is often seen as more reactive as opposed to proactive. But AI gives us a chance to change that and catch bigger problems before they have a chance to occur.
By collating patient data, making the entire process more seamless, and avoiding data confusion or even duplication, doctors can get an immediate overview of patient history, complaints, and more in no time.
Moreover, this also improves coordination amongst different doctors from various specializations, ensuring a better and more accurate diagnosis every time.
Data Security
Healthcare often works with the most sensitive customer data. And what's more, this data is most at the risk of being breached by cyber-attacks – and also costs the healthcare industry significantly more.
In fact, it is a common assumption that medical data is often more at risk of being breached simply because of its nature. It cannot be easily changed, and as all the software and tech are integrated into each other, there are several weak-points for hackers to exploit.
So even as you're going digital, invest in a robust data security structure to ensure that patient information always remains confidential. Check out HIPAA approved security measures to get started.
Invest in Culture
Customer Experience isn't just about singular interactions, but the overall culture of a place. Teach even the most ground level employee to care to show care and concern.
Genuine interactions can make a significant difference for a patient. In fact, they can transform the mood of a place. And patients that feel happier are also more likely to return.
The modern consumer is happy to pay a premium price for better services and experiences, and this is something you can leverage to make your practice an overall success.
However, overwhelming workload, burnout, and stress often battle with the importance of delivering the most personable, outgoing experience. So invest in training, technology, and devices that can make the tasks easier for your employees.
This enables them to in turn focus on the patients that walk in.
Learn from Others' Best Practices
Customer Experience is at the heart of all industries. As its gaining importance in healthcare, it's interesting to learn from the best practices set across industries.
Ensuring regular feedback surveys are critical stages of the customer experience journeys helps spotlight strategic weaknesses while creating a closed-loop feedback system ensures that you follow up with complaints to resolve them quickly and efficiently.
Today, customer experience is increasingly being placed at the heart of the business strategy for large healthcare institutions and private practices alike. Doctor's pay careful attention to each of their patients with the focus on establishing a relationship, small things like reduced wait-time, Netflix on television, and seamless processes are becoming more common. And what's more, patient feedback forms the crux of it all.
By listening to your patients (or customers) you will know the experience gaps that need to be bridged on priority, and implement a customer experience journey that inspires loyalty and trust in your organization.
Krause is a passionate content marketer and a market researcher who is on the spree to capture multiple facets of industry through creativity and innovation.